Preserve, Search and Retrieve Unite Communications
Securely capture your organization's Unite calls, chats and SMS conversations, and ensure the information is easy to find whenever it's needed.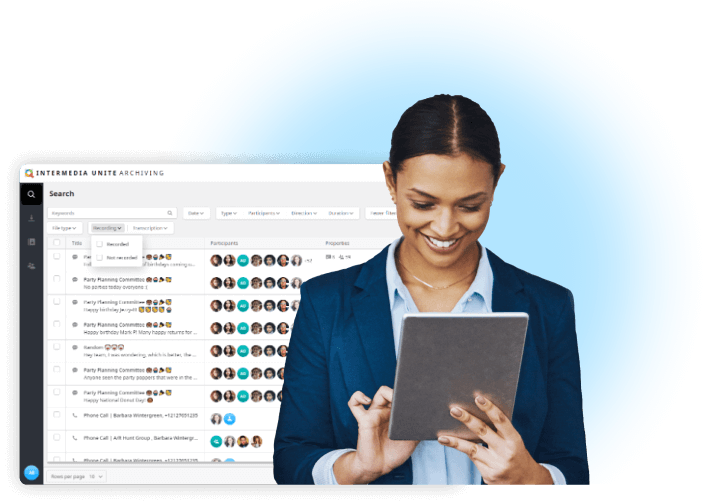 Automatic Data Capture
Capture and retain calls, chats and SMS to help ensure your communications are preserved in one place.
Find What You Need
Powerful, contextual search to quickly find Unite conversations when you need them.
Support Compliance
Facilitates compliance with internal governance and regulatory requirements for retention, retrieval and security.
Secure Archive
Data is encrypted at rest and in transit, and multifactor authentication protects data from access by unauthorized users.
Find Information When You Need It
Automatically preserve, search and retrieve your critical business communications.
AUTOMATED DATA CAPTURE
Unite Archiving automatically captures chat, SMS and voice data without administrative or user action (after the initial activation).
POWERFUL CONTEXTUAL SEARCH
Indexes both content and metadata so users can access millions of files and refine searches using dozens of properties for results in seconds.
SEAMLESS INTEGRATION
Designed for Unite, Unite Archiving deploys in minutes with everything needed to enable compliant retention for Unite communications.
FOUNDATION FOR AI-DRIVEN INTELLIGENCE
Preserves a rich repository of institutional knowledge to enable more informed, efficient, productive, and smarter organizations.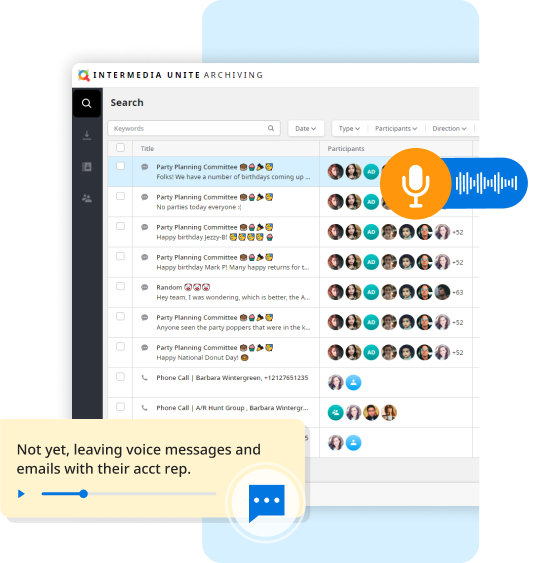 Compliance and Security Capabilities
Lower the burden on your operations, compliance and legal teams by enabling fast, powerful search and retrieval.
Regulations And Compliance
Supports HIPAA, FINRA, and MiFID II compliance programs, with optional WORM tamper-proof media storage to comply with SEC Rule 17a-4.
Data Residency
Unite Archiving addresses data residency requirements, supporting flexible deployments with data centers in US, Canadian and European locations.
Retention Period
Choose to store data for as long as your business case requires with retention options of up to ten years.
Security
Data is uploaded securely and encrypted in transit and at rest with multi-factor authentication to protect access and limit export to authorized users.
Tap into business information that's been shared via calls, chats or SMS
Are you challenged with finding information from past digital conversations quickly? Do you operate in a regulated industry? Do you wish you had a more complete record of business interactions? Watch the video to learn how Intermedia Unite Archiving helps you find critical business information when you need it.
Easy and Worry-Free Experience
Easy to Deploy
Add Unite Archiving to your Unite service with just a few clicks in our HostPilot® control panel.
Easy to Integrate
Tight integration with Unite ensures data is captured and stored with full integrity.
Easy to Use
Quickly search archived calls, chats, and SMS by sender, recipient, attachment type, etc. for easy retrieval.
Easy to Comply
Supports compliance with FINRA, HIPAA, GDPR, and other regulations.